October 3rd, 2013
The high gloss of the acrylic sheet complements the rich colors of any image to produce stunning results. The image is the art - it doesn't get any cleaner than that!

All acrylic prints arrive "ready to hang" and there are two different ways to mount your acrylic print.

Option #1 (Mounting Posts) - Attach your print to your wall with four aluminum mounting posts. The mounting posts act as stand-offs and keep your print separated from the wall by 1".

Option #2 (Hanging Wire) - With this option, your acrylic print is attached to a 1/4" thick black board which has a wooden frame and hanging wire attached to the back. Due to the thickness of the black board and mounting frame, your print is separated from the wall by 1.50"
October 3rd, 2013

FineArtAmerica's print-on-demand service allows you to buy and sell fine art prints using any of our nine museum-quality papers and canvases!

Prints may be purchased individually or combined with thousands of mat and frame combinations.

All of our premium papers and canvases are acid-free and, with proper care, will last for generations.

Unframed prints are shipped in sturdy 1/4" cardboard tubes and include a 1" white border to allow for future matting and framing. Prints may also be shipped in flat packaging upon request.

Our expert staff of print masters has over 40 years of giclee printing experience and produces all prints on state-of-the-art Epson printers. Simply put, the quality of our prints (and their prices) can not be beat!

PAPER

Premium Archival Matte Paper

Long-lasting and versatile, this heavyweight matte finish paper is engineered for high contrast and crisp reproduction of high resolution images. Premium Archival Matte is a neutral white paper ideal for black-and-white photography and a variety of fine art applications. It is acid-free for archival longevity.

Premium Glossy Photo Paper

For luxuriant depth and vivid color, reproduce your photographs on this ultra-gloss finish. The neutral tone, high D-Max, and ink saturation make photo papers an outstanding choice for giclee reproductions.

Premium Semi-Matte Photo Paper

Artists and photographers alike love this paper for its understated semi-matte finish, optimized for maximum presentation quality with minimum glare. The neutral tone, high D-Max, and high ink saturation make photo papers an outstanding choice for giclee reproductions.

Premium Luster Photo Paper

This happy medium is preferred by portrait photographers for its cheerful sheen. The luster finish also has a delicate sparkle that makes images of water scintillate. The neutral tone, high D-Max, and high ink saturation make photo papers an outstanding choice for giclee reproductions.

Cool Tone Picture Rag

Popular among photographers for its exceptional black-and-white imagery, Cool Tone Picture Rag also holds incredibly vivid and true colors. Cool Tone Picture Rag is an acid-free paper made from 100% cotton rag.

Somerset Velvet

This radiant white paper offers vivid color reproduction and deep, rich blacks for amazing contrast. With a texture that gently softens the overall effect, it adds an extra hint of warmth to reproductions of oils and pastels and a softer edge to photography. Somerset Velvet is a 100% cotton rag paper, making it perfect for conservation quality projects.

Watercolor Paper

The textured finish and satisfying weight of this fine art watercolor paper provides an authentic look and feel for reproductions of watercolor art — or, use it to add an interesting natural texture to photography and digital media. Collectors who like to handle the print out of frame will appreciate this paper's rigidity and surface feel. Watercolor Paper is a neutral-toned, acid-free paper made from 100% cotton rag

CANVAS

Glossy Canvas

With a glossy finish formula specially designed for pigmented inks, this canvas lovingly recreates the texture and reflectivity of oils on canvas. It also lends a fine art feel to photographs. Glossy Canvas has a slightly warm tone and is made from an acid-free poly/cotton blend.

Matte Canvas

The texture and weight of this canvas brings fine art reproductions one step closer to the originals, while the matte finish gives them a softness that invites attention. Matte Canvas has a bright white tone and is made from an acid-free poly/cotton blend.

October 3rd, 2013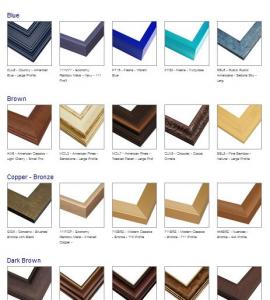 Our interactive framing interface allows you to preview your prints in any of the thousands of frame and mats that we carry. You're sure to find one that suits your taste and enhances the beauty of your print.

All of our frames are assembled, packaged, and shipped by our expert framing staff and come with a 30 day money-back guarantee. If you are unhappy with the quality of your print, frame, or mat for any reason, simply mail it back to FineArtAmerica within 30 days of delivery, and you'll receive a full refund of your purchase price. Please note - Fine Art America does not reimburse the outgoing or return shipping charge unless the return is due to a defect in quality.

FineArtAmerica.com is partnered with one of the largest custom framing manufacturers in the United States, and as a result of this relationship, we are able to pass along wholesale frame prices which are typically 25 - 50% less than local retail stores. Simply put, the quality of our frames (and their prices) can not be beat!
July 31st, 2013
Here are some tips for you that we give people photographing their work. However, even if you scan, some will help

First off, all artwork should be photographed following these simple steps:

1. Use at least a 10-12 MP camera, with a manual focus lens not an auto focus. The higher the MP the camera, the larger the file we have to print from. If you want to offer large prints, you need to use a high MP camera.

2. Mount the camera to a tripod. If you don't have a tripod, use a stack of books, a table, anything. You just have to have the camera sitting on something, not hand held.

3. Shoot outdoors in natural light. Make sure you white balance your camera too, or the colors won't be right.

4. Preview the image to make sure there are no blurry areas, flash problems, etc.

5. Export at the highest possible file size while staying under our less than 25 MB limit.

To preview an image in photo editing software simply use the zoom icon to zoom in on the image until it's viewed at 100% print size. What you will find is that viewing it at 100% you will be able to see if there are any problem areas.

Look all around the image at 100%, the edges included. If the image has no problems, blurry areas, uncropped edges, or areas where there is flash reflecting off the image, then you're on your way to a great image.

Second, you have to determine how large you want your image printed to. Go to the image menu, and click "Resize Image". DO NOT RESIZE THE IMAGE TO BLOW IT UP LARGER IN THIS MENU. That will only result in a blurry, pixelated, problematic image.

We need 100 pixels/inch in order to have a nice image for printing. That makes the math easy as well. Your image menu can be viewed as a pixels/inch ratio, and you can see how many inches wide by tall your image is. You can shrink down the inches in this menu if the image is blurry. THis is shrinking the image to make it a little smaller. You can shrink the image down and it will help the quality of the image, just never blow it up in this menu.

If your image is 1400 pixels by 1000 pixels then the image can be printed up to 14x10. etc.etc.

That's all you need to preview your image. Doing that will help inform you how large your image can be printed to, and whether it's print ready when zooming in at 100% to see it's quality of focus and to see if there are any problem areas.

Save as aRGB or sRGB and under 25mb



Abbie Shores
May 17th, 2013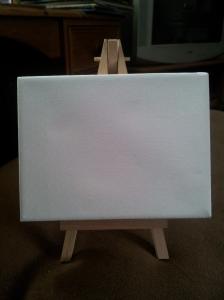 I am giving away a new painting on Facebook soon.

The painting is not yet completed so it is not only unique but, never before seen, even by the artist :)

It will fit on a desktop or mantelpiece as it comes with an easel to stand it on

The only thing people know is the subject

THE SEA

How to become the person who has this sent to them, free of charge, as a present, will be shown on that Facebook page soon :)

Like the page now to be involved


February 6th, 2013
I had to spend my bill money on a new computer which I bought it today and it will arrive on Friday

The hard drive on this one will not keep an OS, not even linux now, so I am running off a disc only, which is not ideal

Unfortunately, as I work on the computer, not buying the new one was not an option and this one has done well at 7 years old.

So, I have a new Toshiba laptop which will mean I am more able to travel and still work. It's purple :)

I will be back up to full strength soon!!