October 3rd, 2013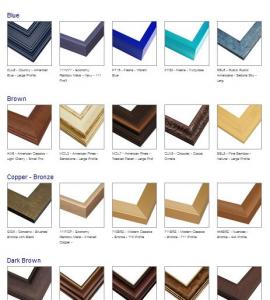 Our interactive framing interface allows you to preview your prints in any of the thousands of frame and mats that we carry. You're sure to find one that suits your taste and enhances the beauty of your print.

All of our frames are assembled, packaged, and shipped by our expert framing staff and come with a 30 day money-back guarantee. If you are unhappy with the quality of your print, frame, or mat for any reason, simply mail it back to FineArtAmerica within 30 days of delivery, and you'll receive a full refund of your purchase price. Please note - Fine Art America does not reimburse the outgoing or return shipping charge unless the return is due to a defect in quality.

FineArtAmerica.com is partnered with one of the largest custom framing manufacturers in the United States, and as a result of this relationship, we are able to pass along wholesale frame prices which are typically 25 - 50% less than local retail stores. Simply put, the quality of our frames (and their prices) can not be beat!
July 31st, 2013
Here are some tips for you that we give people photographing their work. However, even if you scan, some will help

First off, all artwork should be photographed following these simple steps:

1. Use at least a 10-12 MP camera, with a manual focus lens not an auto focus. The higher the MP the camera, the larger the file we have to print from. If you want to offer large prints, you need to use a high MP camera.

2. Mount the camera to a tripod. If you don't have a tripod, use a stack of books, a table, anything. You just have to have the camera sitting on something, not hand held.

3. Shoot outdoors in natural light. Make sure you white balance your camera too, or the colors won't be right.

4. Preview the image to make sure there are no blurry areas, flash problems, etc.

5. Export at the highest possible file size while staying under our less than 25 MB limit.

To preview an image in photo editing software simply use the zoom icon to zoom in on the image until it's viewed at 100% print size. What you will find is that viewing it at 100% you will be able to see if there are any problem areas.

Look all around the image at 100%, the edges included. If the image has no problems, blurry areas, uncropped edges, or areas where there is flash reflecting off the image, then you're on your way to a great image.

Second, you have to determine how large you want your image printed to. Go to the image menu, and click "Resize Image". DO NOT RESIZE THE IMAGE TO BLOW IT UP LARGER IN THIS MENU. That will only result in a blurry, pixelated, problematic image.

We need 100 pixels/inch in order to have a nice image for printing. That makes the math easy as well. Your image menu can be viewed as a pixels/inch ratio, and you can see how many inches wide by tall your image is. You can shrink down the inches in this menu if the image is blurry. THis is shrinking the image to make it a little smaller. You can shrink the image down and it will help the quality of the image, just never blow it up in this menu.

If your image is 1400 pixels by 1000 pixels then the image can be printed up to 14x10. etc.etc.

That's all you need to preview your image. Doing that will help inform you how large your image can be printed to, and whether it's print ready when zooming in at 100% to see it's quality of focus and to see if there are any problem areas.

Save as aRGB or sRGB and under 25mb



Abbie Shores
May 17th, 2013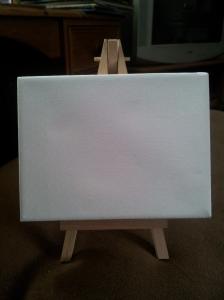 I am giving away a new painting on Facebook soon.

The painting is not yet completed so it is not only unique but, never before seen, even by the artist :)

It will fit on a desktop or mantelpiece as it comes with an easel to stand it on

The only thing people know is the subject

THE SEA

How to become the person who has this sent to them, free of charge, as a present, will be shown on that Facebook page soon :)

Like the page now to be involved


February 6th, 2013
I had to spend my bill money on a new computer which I bought it today and it will arrive on Friday

The hard drive on this one will not keep an OS, not even linux now, so I am running off a disc only, which is not ideal

Unfortunately, as I work on the computer, not buying the new one was not an option and this one has done well at 7 years old.

So, I have a new Toshiba laptop which will mean I am more able to travel and still work. It's purple :)

I will be back up to full strength soon!!
January 25th, 2013
I am always talking about my fruit drinks I make so I thought, just for fun, I would show how I make one. This is not a real recipe video, it was made for friends for a bit of fun :)

IF I HAD BEEN MAKING FOR MORE THAN JUST MYSELF I WOULD HAVE WASHED MY HANDS AFTER EATING THE HONEY lol As it was only me why bother ;)


August 28th, 2012
Today I decided to make a lovely load of spaghetti for a meal tonight and a spare lot for later in the week.

If you do not know how to make it, it is exceptionally easy. Put a couple of handfuls of flour (plain white or wholemeal) on a clean surface. Make a well and break in an egg. (we always have duck eggs but hens are good too)

Mix well, adding a little more flour id needed. Just donít go made on it as you donít want it all dried out.

Roll it and roll it and roll it, slice it and hang it to dryÖ or cheat, as I do, and use the pasta maker lol Well I say cheat but, have you every USED one of these things? Unbelievable what you have to go through and, donít even TALK to me about cleaning the damn thing!