May 17th, 2013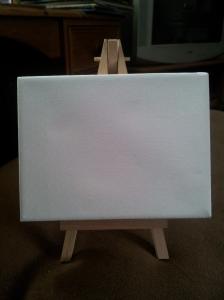 I am giving away a new painting on Facebook soon.

The painting is not yet completed so it is not only unique but, never before seen, even by the artist :)

It will fit on a desktop or mantelpiece as it comes with an easel to stand it on

The only thing people know is the subject

THE SEA

How to become the person who has this sent to them, free of charge, as a present, will be shown on that Facebook page soon :)

Like the page now to be involved


February 6th, 2013
I had to spend my bill money on a new computer which I bought it today and it will arrive on Friday

The hard drive on this one will not keep an OS, not even linux now, so I am running off a disc only, which is not ideal

Unfortunately, as I work on the computer, not buying the new one was not an option and this one has done well at 7 years old.

So, I have a new Toshiba laptop which will mean I am more able to travel and still work. It's purple :)

I will be back up to full strength soon!!
January 25th, 2013
I am always talking about my fruit drinks I make so I thought, just for fun, I would show how I make one. This is not a real recipe video, it was made for friends for a bit of fun :)

IF I HAD BEEN MAKING FOR MORE THAN JUST MYSELF I WOULD HAVE WASHED MY HANDS AFTER EATING THE HONEY lol As it was only me why bother ;)


August 28th, 2012
Today I decided to make a lovely load of spaghetti for a meal tonight and a spare lot for later in the week.

If you do not know how to make it, it is exceptionally easy. Put a couple of handfuls of flour (plain white or wholemeal) on a clean surface. Make a well and break in an egg. (we always have duck eggs but hens are good too)

Mix well, adding a little more flour id needed. Just don't go made on it as you don't want it all dried out.

Roll it and roll it and roll it, slice it and hang it to dry… or cheat, as I do, and use the pasta maker lol Well I say cheat but, have you every USED one of these things? Unbelievable what you have to go through and, don't even TALK to me about cleaning the damn thing!
August 27th, 2012
What a lovely day :) It rained LOADS but I still had a wonderful day.

We got up at silly o clock due to our favourite village having a boot fair today. It takes us a while to cycle there as it is a few miles away and the fair was starting first thing in the morning.

The weather… well, it actually was warm, dry and windy when we set out but, this IS England so we packed up wet weather stuff also.