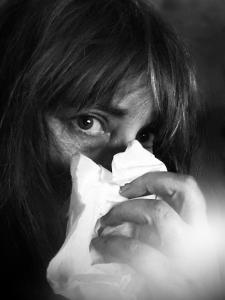 Depression is insipid. He creeps in, until you suddenly notice him hiding behind a curtain, staring out at you with a scythe in his hand.

You smile and chat about the inconsequentials while feeling the blade whisper upon your neck.

He travels with you as you go about your day to day life, strumming his fingers on your spine as you bend to kiss the baby, or he whispers in your ear as you wash the plates.

He lies to you in your sleep, telling you stories of doom, and hate, and all the things that can bring your insecurities to the fore.

Depression sits on the beach with You and tells you the sea is beautiful further out.

He pushes you towards the open windows and shows you the view of law breakers and wars and He places a grey veil over your eyes which hides the beauty of the world.

He hides the solutions to your problems in full view. He makes sure you trip over all obstacles, even the tiniest, so the journey seems longer and harder.

Depression is my constant companion and we talk often of the past and future. He travels my life journey with me but I know him now. I shake his hand and clean his blade and tell him things I would not tell others. It lessens his hold. He cannot hide behind a curtain as I made him solid and gave him a name. I have the power.